President Donald Trump has made no secret of his contempt for low-flow, water-efficient plumbing products.  "I go into areas where they have tremendous water," then-candidate Trump said back in December 2015, "and you have sinks where the water doesn't come out.  You have showers where I can't wash my hair properly."  Fast forward to the present, and now-President Trump is looking to put an end to the federal government's support for water-efficient products.  His proposed 2018 budget eliminates funding for an EPA program called WaterSense, which works to advance the market for water-efficient fixtures and appliances. 
WaterSense was developed with the goal of protecting the future of the US water supply by partnering with a variety of key players in the plumbing industry, including manufacturers, utilities, retailers, and nonprofit organizations to develop a national system of water efficiency standards.  WaterSense is not a regulatory plan, but rather a voluntary program designed to promote water-efficient toilets, sink faucets, showerheads, and other plumbing products. 
Here's how it works -- if a company makes a product that meets WaterSense's water efficiency and performance standards, it is rewarded with permission to place the WaterSense label on that product.  This makes it easier for consumers to identify products that use less water without sacrificing performance quality. 
WaterSense's Impact on the Plumbing Fixtures Industry
Companies like having WaterSense-approved products because it allows them tout their commitment to water efficiency.  Many of the top US plumbing fixture manufacturers have developed products that comply with WaterSense specifications, including Kohler.  "Kohler has encouraged water conservation since the 1970s," says Rob Zimmerman, Director of Marketing and Sustainability.  "Receiving recognition from the EPA year over year demonstrates our continuing commitment to water-saving initiatives, consumer education, and product innovation."  Other US plumbing fixtures market leaders offering WaterSense certified products include American Bath, Jacuzzi Brands, LIXIL, and Masco.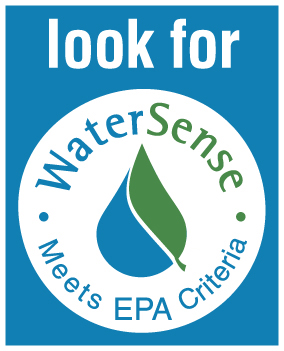 Demand for Water-Efficient Fixtures Still Expected to Rise
While water-efficient products are already forecast to register strong growth going forward, driven in part by state-level mandatory standards and/or financial incentives regarding water efficiency, the removal of WaterSense labels would lead to some confusion in the market by making it more difficult for consumers to identify which products meet their needs.  It may also lead to a growing number of state-based initiatives that may increase regulatory complexity for plumbing fixtures companies, who instead prefer to comply with an overarching federal standard to show off the efficiency of their products. 
The Future of the WaterSource Program
Trump's wishes may not necessarily come to fruition.  Key congressional Republicans have already stated that Trump's budget proposal may have little bearing on the one they will eventually send to his desk.  Nevertheless, the message from the White House is clear:  if they get their way, the days of the federal government involving itself in efforts to reduce water consumption are numbered.
For more information about the US plumbing fixtures market, check out the new report from The Freedonia Group, Plumbing Fixtures Demand in the US.
About the Author:
Nick Cunningham is an Industry Analyst at The Freedonia Group where he covers the US and global construction and building products industries.