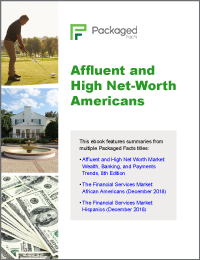 It might sound cliché, but the rich indeed keep getting richer. Further, the divide between wealthy Americans and the middle- and lower-class citizens remains one of the nation's most defining and important economic considerations.
Superficially, it appears a seachange looms, especially with the maturation of Gen Z into young adulthood, the deepening presence of Millennials in the American workforce, and Gen Xers wrestling away an ever expanding share of the nation's wealth. Yet among America's economic elite the story remains a classic case of the Haves and the Have Nots. The former group consists primarily of non-minority Baby Boomers, while the latter group skews younger and ethnic.
In this e-book, market research firm Packaged Facts examines important generational and racial/ethnic trends in an economic environment where household growth, mean wealth, and aggregate wealth trends in the United States clearly substantiate a post-recession skew toward affluence.
The data and research in this e-book are based on the following reports by Packaged Facts: