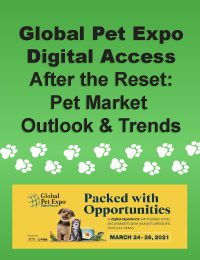 Packaged Facts' "U.S. Pet Market Outlook and Trends 2021" presentation at Global Pet Expo 2021 takes an "omnimarket," cross-sector look at the reset of the pet industry landscape in the wake of COVID-19, and resulting market opportunities.
Drawing on Packaged Facts' U.S. Pet Market Outlook 2021-2022 (March 2021), this PowerPoint deck of presentation highlights touches on key market issues including recent pet market growth, pet acquisition and pet population trends across animal types, e-commerce/channel share shifts, and digital pet health care trends.
Fill out this form to download this free resource today.