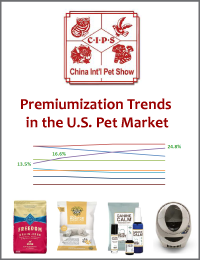 Pet ownership patterns are at an economic crossroads, as Packaged Facts publisher David Sprinkle recently discussed at the China International Pet Show. More U.S. household have cats or dogs now than did in the early 2000s. The rise in dog ownership is fueling this growth – and with that comes a shift in the demographic profile of pet owners. In a nutshell, dog owners tend to have a higher household income and spend more on their pets.
This shift is driving a move toward premiumization of pet food and products, particularly (though not exclusively) in products for dogs. And, increasingly, consumers are turning to online retailers to purchase their food and supplies for their pets. Online shoppers tend to be younger and have higher household incomes. These findings support the ongoing refinement and upscaling of pet products and services, which is being fueled by "pet parenting" mindsets and correspondingly wider-range attention to pet health and wellness concerns.
In this free presentation, Premiumization Trends in the U.S. Pet Market, Sprinkle offers highlights from his talk at the China conference. Gain insights into the key factors affecting the U.S. pet market and identify resulting opportunities for your business.