Schools have put in place much of the infrastructure they need as they move toward digital learning environments, but work remains to be done.
That is one of the findings in Simba Information's new report, K-12 Deployment Patterns and Purchasing Plans for Computing/Display Devices 2017 which is based on a survey of educators.
The largest cohort of respondents to the survey, 49.6%, believed they had a good deal of the infrastructure needed to implement current and future technology plans, but with some upgrading still required. Only 8.5% of surveyed educators said they do not have nearly the infrastructure they need, but the majority of those expect to get closer within five years.
The following table shows levels of technology infrastructure as reported by respondents to the survey: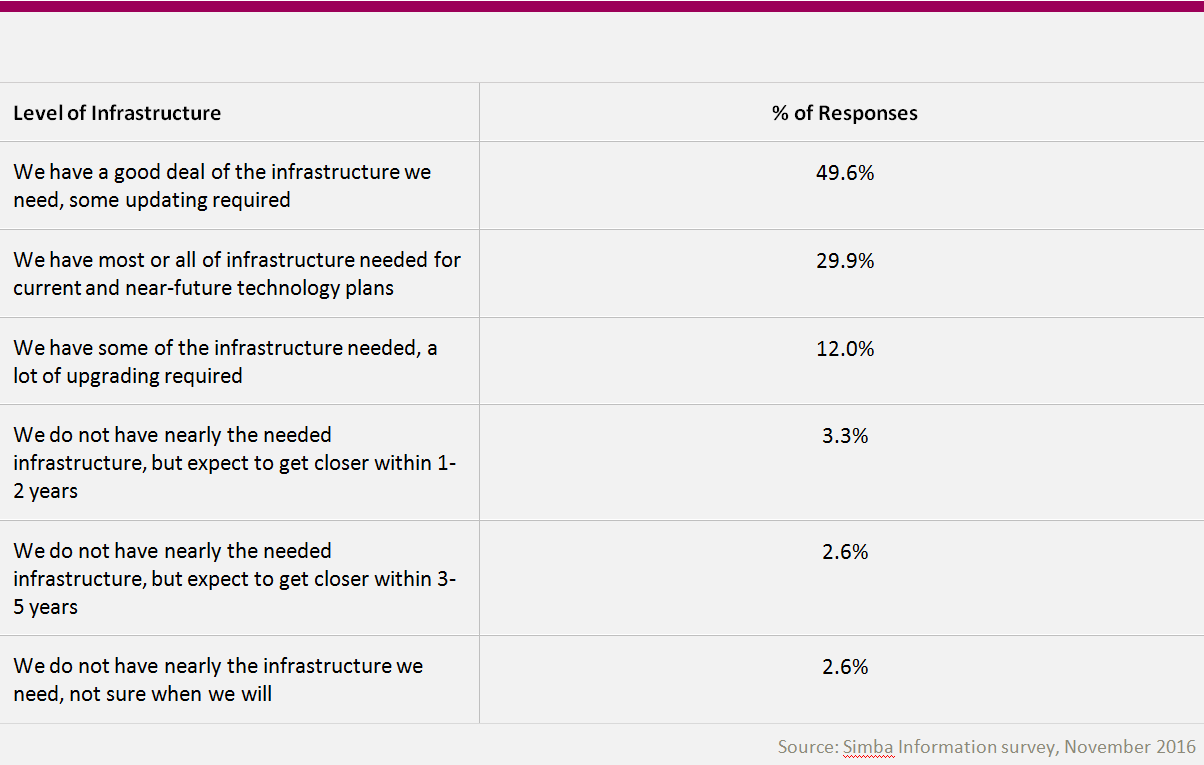 Digital Access and Equity
Digital equity remains an issue as technology-rich school districts continue to update and innovate while schools in other areas are lagging behind, although progress in recent years has led to more schools achieving the minimum infrastructure requirements for digital learning.
A November 2017 report from CoSN found that 85% of school districts fully meet the Federal Communications Commission short-term goal for broadband connectivity of 100 Mbps per 1,000 students. However, recurring costs remain the most significant barrier for schools in their efforts to increase connectivity and move to technology-enabled classrooms.
Schools' shift toward digital learning is unlocking ways for teachers to innovate in the classroom and giving students are getting access to content and choices they never had before. The shift also leads to opportunities for vendors of computing devices, like Chromebooks and iPads, and for vendors of digital content, including ebooks, software, learning games and apps.