Retail sales of water treatment systems and consumables soared in 2020 due in large part to the trickle-down effects of stay-at-home orders amid the COVID-19 pandemic:
Spending more time at home, and using their own tap water more frequently, many consumers invested in water quality.
Additionally, reductions in dining out, travel, and entertainment spending – combined with government stimulus programs – freed up cash for consumers to invest in water treatment products, as well as other home improvements.
The market for consumer water treatment systems saw particularly strong gains in 2020, growing 8.2% from 2019:
Low-cost POU systems saw especially rapid growth, as they are accessible to first-time users of water treatment.
However, POE system sales also fared well as housing completions and existing home sales ended the year better than expected, and whole-house systems are often installed during or immediately after home construction or a home sale.
Looking forward to 2021, it is expected that demand for POU systems will remain elevated and POE systems will continue to show gains.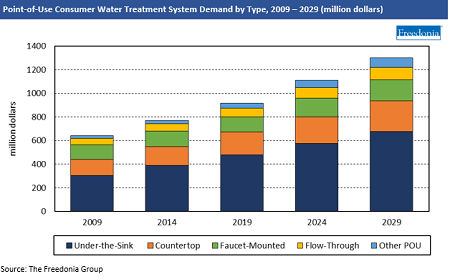 What's in store for the water treatment market as the pandemic recedes? Below are some key trends to watch through 2024 as identified by Freedonia Group analysts.
Consumer Awareness of Water Issues Will Remain a Key Factor for Future Growth
Through 2024, retail sales of water treatment systems and related consumables is forecast to rise 3.4% annually to $4.5 billion, with rising consumer awareness of potential drinking water contaminants among the key drivers of market growth.
According to the Freedonia Group's National Online Consumer Survey, slightly more than half of US consumers consider their water quality to be only average or worse, which provides a significant market opportunity for suppliers going forward:
As consumers continue to become more aware of the contaminants and/or aesthetic flaws of their water, more will seek out water treatment systems or upgraded versions of these systems.
Driven by national press about the poor quality of drinking water in a number of US cities – such the lead contamination crises in Flint, Michigan and Newark, New Jersey – consumers are increasingly aware of the benefits of water filtration, spurring demand for suppliers.
As consumer water filtration products penetrate more households, marketing efforts that improve consumer understanding of the available products and their capabilities will help suppliers differentiate themselves from the competition, particularly as more products are introduced into the marketplace.  
Product Development Is Increasing Recurring Revenues for Suppliers
A number of product developments are helping suppliers boost recurring revenues through the sale of more or higher value consumables, including:
development of higher value filters that remove more contaminants
multistage systems that feature more filters that must be replaced regularly
electronic indicators that notify users when to replace/refill consumables
Despite their low average prices, consumables generally account for the majority of demand – 61% of the total in 2019 – as they are purchased on a more consistent and frequent basis that treatment systems.
However, some innovations can also counteract sales of consumables. For example, newer water softeners that function more efficiently will potentially reduce salt usage.
Water Filtration Suppliers Extend Brands to Adjacent Products to Build Brand Awareness
Brand awareness and extension are important competitive strategies in the consumer water treatment market. Consumers put trust in brand names that have a strong reputation and are often more likely to lean toward those companies' product offerings in the future.
As such, suppliers of consumer water treatment systems are increasingly extending their brands to new products, building on their company's reputation in adjacent product categories. For example, two of the brands that are synonymous with drinking water filtration – Brita and PUR – have taken steps to license their brands to many products:
The Brita brand name is used by smaller companies such as Protect Plus Pro, which licenses the Brita PRO brand from Clorox and sells a number of products, including whole-house filtration and water softeners, as well as under-the-sink units.
In 2017, PUR chose a brand licensing agency, Brandgenuity, to act on behalf of the company and seek out to extend its brand to new product types. PUR partners with Whirlpool to use its brand on refrigerator filters.
Growing Use of Smart & Other Advanced Technologies Will Bolster Value Gains
In addition to advances in water treatment technologies themselves, a number of other technological innovations are being implemented to increase the functionality and ease of use of treatment systems. These advances will both increase value gains and promote better maintenance and consumable replacement habits among consumers. Some of these advances include systems with:
smart technology
Wi-Fi or Bluetooth capability
multiple programmable settings and outputs
In particular, smart technology is becoming more prevalent in consumer water treatment products as this technology can enable products to automatically adjust their performance based on changing environmental conditions (such as increases and decreases in water use or contaminants). For example:
GE Appliances' SmartSoft technology learns a family's water use patterns to ensure that enough softened water is available at all times.
Culligan International's Culligan HE Softener-Cleer water conditioner system is equipped with smart technology that automatically detects unwanted bacteria and adjusts filtration accordingly.
Chandler Systems' DROP water softeners utilize smart technology that offers remote monitoring, maintenance notification, and automatic water shut-off in emergencies.
Want to Learn More?
Consumer Water Treatment Systems is now available from the Freedonia Group.
About the Author:
Peter Kusnic is a Content Writer with The Freedonia Group, where he researches and writes studies focused on an array of industries.