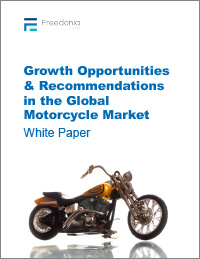 Global demand for motorcycles is projected to rise 4.4% per annum through 2022 to 121.5 million units, an improvement over the weak 2012-2017 performance. To take full advantage of these new sales opportunities, it is important to both understand the primary drivers of market gains and identify what countries have the greatest growth potential.
Motorcycle sales at the global level are expected to increase because of:
increasing use of motorcycles for recreational (e.g., touring, racing, off-roading) and business activities around the world
growing availability of affordable models in developing countries and the introduction of new, top-of-the-line motorcycles for mature markets
expansion of road networks in the developing parts of the world
shifting consumer preferences toward e-bikes and electric motorcycles and scooters
Fill out the form to download your FREE white paper and learn more about this growing industry today.