There are a lot of stereotypes about the differences between men's and women's shopping habits. For example:
But what do the data say?
Women Purchase Apparel More Frequently
Women are far more likely than men to have purchased apparel (whether men's or women's) within the last year. For example, 80% of women purchased undergarments or nightwear (the most popular clothing category for both men and women) as compared to 53% of men. This trend was easily distinguishable; women were at least nine percentage points more likely to purchase an item than men for every segment except accessories. Elevated purchasing rates among women are partially due to the fact that women commonly purchase clothing for men and children.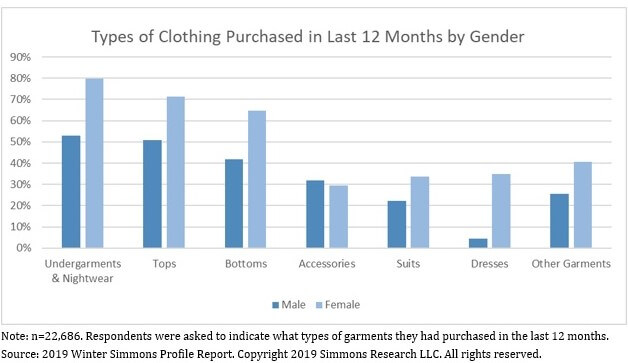 An interesting anomaly is accessories, as the two genders had similar purchasing rates (32% of women to 30% of men). Women have a wide variety of non-clothing items they can accessorize outfits with (such as jewelry, hairbands, and purses), whereas men are limited to clothing accessories such as hats, gloves, and neckwear. Women's purchases of these non-clothing accessories compete with their clothing accessory purchases, which depresses purchasing rates of women's clothing accessories down to similar levels as men's.
Men Edge Out Women When Using Online Retail Channels
Overall, both genders utilize different shopping methods at similar rates. However, a notable exception is off-price stores; 34% of women purchased apparel from an off-price store, as compared to 25% of men. Additionally, men were more likely to utilize a brand's website than women (22% to 16%). Both genders used internet-only stores at similar rates (39% for men, 38% for women; the percentages fall within the margin of error of the survey).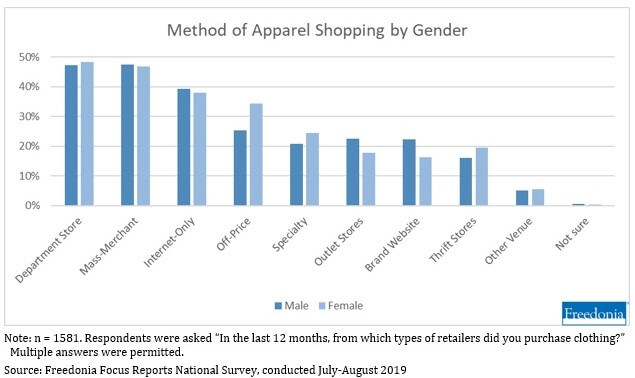 Women are More Engaged in Apparel Purchasing than Men
Notably, women shoppers are more engaged than men shoppers on all three of the following measures:
"Price" was an important factor to 70% of women shoppers, compared to 55% of men shoppers.
Some 67% of women thought that "Fits well" was important to their clothing purchasing, compared to 56% of male shoppers.
Some 60% of women shoppers thought that apparel that "Looks good" was important, while only 47% of men picked it as a factor.
While women are more engaged shoppers, both genders thought the most important factors when purchasing clothing were prices, a good fit, and attractive product (though the order in which these factors ranked differed by gender). Consequently, both genders still value the same three basic factors when purchasing clothes.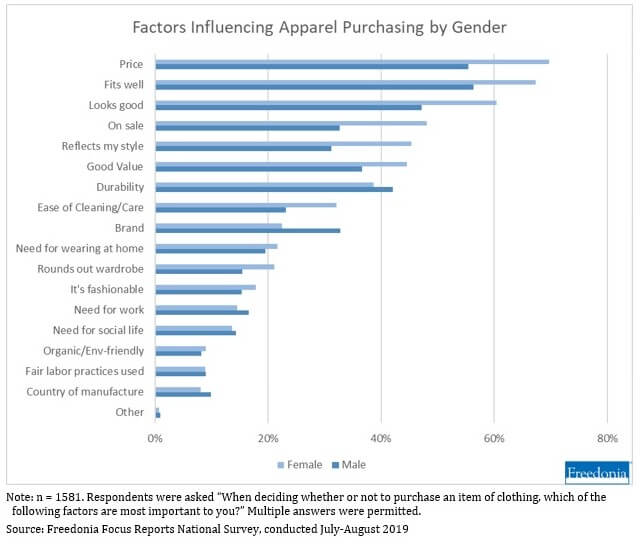 Conclusion
So how did the conventional wisdom do?
Women buy more clothing than men: True.
Women are far more likely to purchase clothing across most apparel categories than men are.
Women are more avid adopters of online clothes shopping than men are: False.
The data rebut the idea that women are more likely to online shop; both genders use online retail at similar rates to purchase clothing, and men are more likely to use a brand website.
Women are more likely to shop around and compare prices: Likely true.
The data suggest that women are more engaged with clothing shopping than men are, which supports the idea that women are likely to hunt for the perfect piece of clothing, while men will leave a store with the first workable item. Coincidentally, men choosing not to shop around likely contributes to the trend of men spending more on apparel.
In general, people take time to research purchasing decisions that are important to them. Since clothes shopping is generally more important to women than men, women are more likely to spend time deliberating over potential purchases. Ultimately, both genders want the same thing when purchasing a garment: something that fits well and looks good for an acceptable price.
Want to Learn More About Clothing?
Our apparel reports will keep you covered! For additional information and analysis of US industry trends, see Apparel: United States, Men's Clothing: United States, and Women's Clothing: United States, reports published by the Freedonia Focus Reports division of The Freedonia Group.
Apparel: United States segments total manufacturer-level demand by product in terms of:
tops
bottoms
intimates and sleepwear
coats, jackets, and suits
accessories
dresses
infants
other apparel such as overalls, swimwear, and tracksuits
Total demand is also segmented by demographic as follows:
women's and girl's
men's and boy's
Men's Clothing: United States segments personal consumption expenditures (PCE) by product in terms of:
tops
bottoms
coats, jackets, and suits
accessories
intimates and sleepwear
other garments
Women's Clothing: United States segments PCE by product in terms of:
tops
bottoms
intimates and sleepwear
dresses
coats, jackets, and suits
accessories
other clothing
To illustrate historical trends, total demand/PCE, total shipments, the various segments, and trade are provided in annual series from 2008 to 2018.
Non-fabric or non-apparel accessories such as eyewear, footwear, handbags, jewelry, luggage, purses, and watches are excluded from the scope of these reports. Single-use disposable apparel is also excluded.
You can also check out some of our related reports, which include:
About the Author
Owen Stuart is a Market Research Analyst with Freedonia Focus Reports. He conducts research and writes a variety of Focus Reports, and his experience as an analyst covers multiple industries.