America has long been a nation of snackers, with over 60% of the population filling out their three meals a day with a snack or two. However, a slightly new twist is the trend of snacks or small, single-component meals replacing traditional meals. Driven by urbanization, longer work days, and the smaller number of people per household - we've seen a steady growth of people relying on snacks and packaged meals to get through the day.
This has not only meant big business for packaged food producers, but also for suppliers of the convenient, low cost, and highly marketable packaging product that is taking over retail shelves - the pouch. There are three main ways that this trend has had positive impacts on demand for both flat and stand-up pouches:
healthier snack trends have driven demand for packages with shelf appeal and good barrier performance
the "snackification" of conventional foods has increased the need for package portability
increased demand for smaller, easy-to-prepare meals has led to higher concentration of packaged meal components

Product Proliferation Needs Package Differentiation
It's no secret that we've gone far beyond potato chips and Oreos in terms of snack options. There has been significant response to healthy and more nutritious options that can help consumers adhere to strict diets or meet recommendations for daily vitamin intake. This can be seen in the wide range of new products like Lay's Poppables, Nabisco's Ritz Crisp & Thins, and Snack Factory's Veggie and Fruit Sticks  that have all been released in 2017 and report to be more healthy than chips or crackers.
However, with all of these new products, not to mention the surge in introductions from smaller, regional food manufacturers, it would be easy for a brand to get lost in the shuffle. These on-trend offerings need packaging that can stand out from the crowd as well as provide the protection from oxygen and moisture that these more sensitive formulations require.
Stand-up pouches with specialized coatings or complex material structures are in high demand, as are those that can incorporate high-quality graphics and zippers or other resealing options to help consumers keep these products tasting fresh.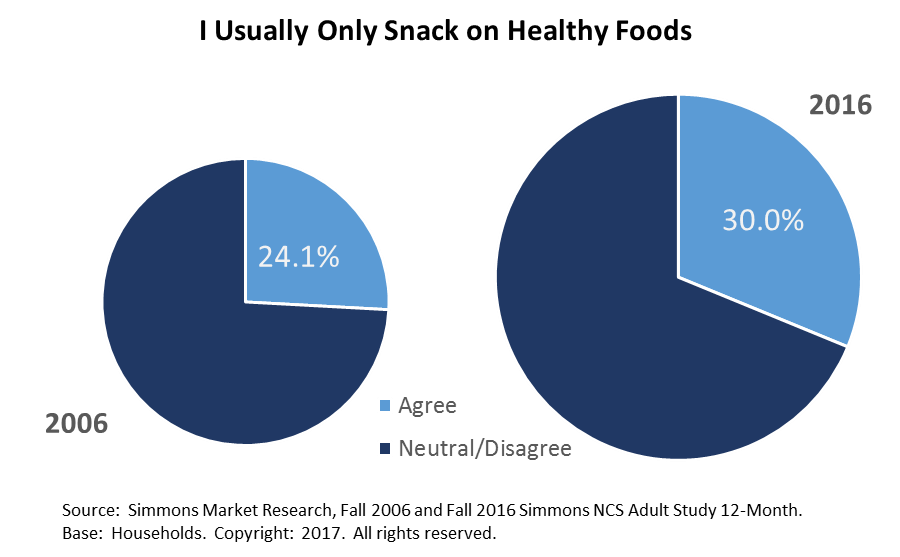 "Snackification" Shrinks Sizes in Packaged Meat, Cheese, and Produce Categories
Not only has the snack category broadened its offerings over the past decade, the definition of what is considered a snack has also been significantly widened. Going along with the preference for more nutritious snacks, there has been widespread adoption of conventional foods -- like meat, cheese, yogurt, and fruits and vegetables -- as alternatives to traditional processed snacks. This trend has been bolstered by the preference for natural, clean-label products without artificial flavors or enhancers.
All of these foods have gone from being packaged in standard, multi-serve sizes to a wider distribution in single-serving packs, usually a pouch that is lightweight, highly portable. and inexpensive to produce. These products are increasingly also using a larger stand-up pouch for the sale of multipacks.
Dried and flavored fruits, vegetables, and protein products are a significant growth area, especially as these items seek to extend shelf life and convey a premium quality through the incorporation of high-quality materials and graphics.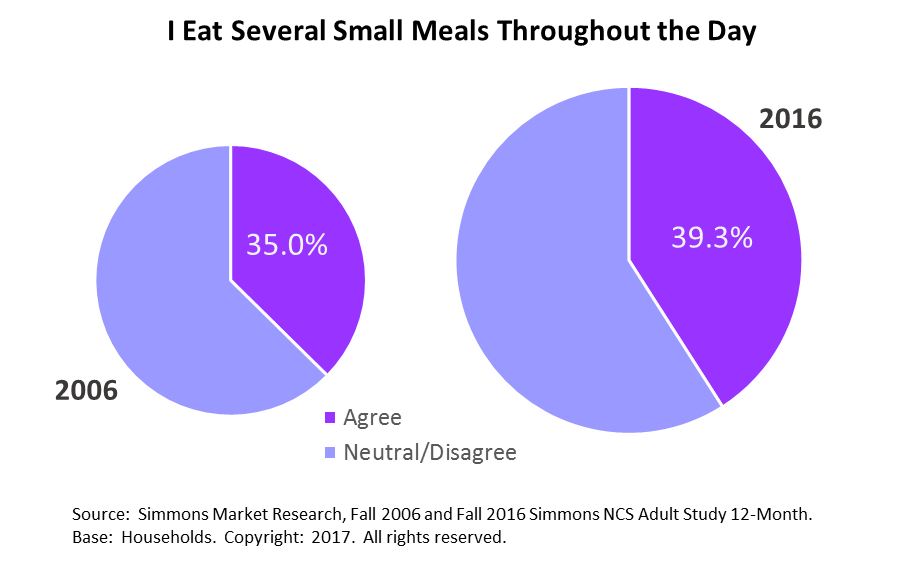 Portability, Ease-of-Use Driving Demand for Packaged Meals
In addition to a higher rate of snacking, consumers have also shown the tendency to eat smaller meals throughout the day, often away from home. With the substitution of complex, multi-component meals, especially for breakfast and lunch, has come greater use of packaged foods that can make meal preparation easier.
Packaged sauces, meal mixes, and pre-portioned entrées are continuing to gain speed despite trends favoring fresh foods, as these items can be used in addition to fresh components to create a more balanced menu. Demand for prepared meal components is strengthened by the increasingly adventurous flavor preferences of young consumers, which means that packaged sauces and spice mixes can help novice cooks (or people without access to a full kitchen) bring ethnic flavors into their own meals.
Prepared meal components are generally packaged in both stand-up and flat pouches to emphasize their ease-of-use and their departure from conventional offerings. Additionally, these items incorporate spouts, resealable closures, or easy-opening features to make them mess-free and reduce the need for additional tools.
For More Information…
To find out more about these and other trends will impact demand for flexible packaging, check out the market research report on Converted Flexible Packaging in the US by the Freedonia Group. 
About the Author:
Katie Wieser is an industry analyst at The Freedonia Group, where she writes industry studies focused on the packaging market.