Come Take a Look at the Updated Knowledge Center Platform
Simba Information has introduced an updated version of our popular Knowledge Center, a one-stop platform that unifies Simba's authoritative content and revolutionizes the way clients access and use market research.
Through the Knowledge Center, clients not only have access to Simba's entire library of research, they also benefit from new interactive features that help them work more quickly and accurately.
The updated version of the Knowledge Center includes sophisticated search capabilities and powerful workflow tools that are simple and intuitive to use. Clients can access and view data and content as they fit, be it retrieving full-text reports, chapters, tables, or figures. Tables can be downloaded to Excel spreadsheets, figures to PowerPoint slides, and content to Word documents or PDFs.
Content can also be clipped and stored in an online reading room that users can keep private, or share with colleagues to collaborate in real-time. Whether a client needs to finalize a presentation, or create a custom report, the Knowledge Center's workflow tools make it easy to export multiple sources of information and upload them into one document, without having to reformat any items.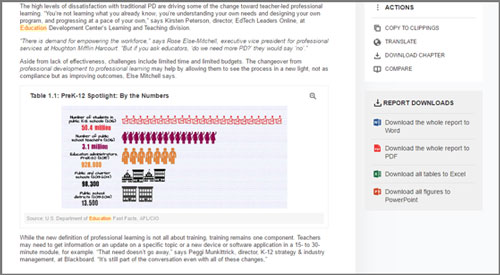 Alert services are also available to help subscribers stay abreast of new Simba content, and a convenient tab on the home page notes when new reports are added to the collection. These features help users get quick access to all the latest information and maximize the value of their subscription.
Why Choose the Knowledge Center
Simba Information's Knowledge Center provides access to an unlimited company-wide catalog brimming with industry-specific market research options all at one fixed price. Vertical-specific subscriptions are available for Education and Professional Publishing. When clients use the Knowledge Center, they enjoy the practicability and reliability of coverage their organization deserves. Let convenience and functionality change the way you conduct research, and take charge of how you navigate your toughest challenges.
See the Updated Knowledge Center for Yourself
Current users can log in to the Knowledge Center here to view all the new features. Not a subscriber? Click here , or contact a research specialist, to request a quick demo of the platform. Email us at [email protected] or call 800.297.4622 (U.S.) or +1.240.747.3091 (international).