Rising trade tensions between the US and Chinese governments threatens to further impact US imports of wood products. This has significant implications for the US building materials industry, as wood is used in numerous applications, including framing, flooring, siding, and fencing. In 2017, for example, the US imported more fencing products – including wood posts, rails, and pickets – from China than from any other country. The latest round of tariffs imposed by the Trump administration this month threaten to raise the price of these products, restricting import levels to the US.
Wood Product Trade Policy: A Brief Recent History
In November 2017, the US Commerce Department implemented countervailing duties on several Chinese producers after an investigation found that hardwood plywood products from China were being dumped on the US market. The main catalyst of this investigation was the Coalition for Fair Trade of Hardwood Plywood, a US organization that promotes the interests of US hardwood plywood manufacturers by exposing what it perceives as unfair Chinese trade tactics. This group argued that the dumping of wood products from China led to the closure of 42 mills and the loss of over 50,000 jobs.
The situation escalated in July and again in August 2018, when the Trump administration imposed 25% tariffs on a total of $50 billion worth of Chinese goods, including wood doors. The Chinese government retaliated by placing tariffs on an equal value of US exports. Then, in September, the US government slapped an additional 10% tariff on $200 billion worth of Chinese exports – including wood flooring, moulding, siding, and windows. This tariff will increase to 25% in January 2019. In response, China is expected to increase its own tariffs, but its options are more limited than the US'. For example, compared to the US, which imports more than $500 billion worth of Chinese products each year, China imported only $130 billion in products from the US in 2017. In order to effectively retaliate against the newly proposed tariffs, China will have to resort to other measures.
Tariffs May Drive up Costs for Suppliers, Prices for Consumers
The goal of the new US tariffs is to punish China for unfair trade policies, particularly its practice of stealing valuable US intellectual property. However, some companies in the US building products industry are voicing concerns about the potential impact of these tariffs on their businesses. The National Association of Home Builders, for example, pointed out that $10 billion worth of residential construction products were included in these new tariffs. The organization's chairman, Randy Noel, stated that these tariffs represent a tax increase on American consumers, one that would compound the effect of 20% tariffs implemented on softwood lumber imports from Canada in November 2017, further driving up the price of wood products.
Impact Outlook
Indeed, these tariffs don't appear to be going away anytime soon. In fact, the threat of further escalation of the US-China trade war lingers. In July 2018, for example, the Trump administration expressed a willingness to impose tariffs on all Chinese imports, stating that it is "ready to go to $500" billion.
It's unclear at this point what the long-term effect of these and other recently imposed tariffs will be on wood product prices, though they seem likely to climb in the short term. If they do, the average cost of building a home will rise, which would depress new home construction activity in the US to an extent. That would have ramifications for suppliers of all kinds of wood building products, as new home construction is a big driver of demand for wood flooring, siding, fencing, and more.
Higher wood prices would also affect product mix for building materials as well. While aesthetics are generally the number one factor for home and business owners choosing building materials, cost still matters. Customers unwilling to pay the increased cost for wood building products may instead choose a cheaper alternative, such as vinyl or fiber cement. These products can mimic the look of natural wood at a lower cost, and also are more durable and require less maintenance than wood building materials.
For more insights on building materials markets in the US, check out these studies from the Freedonia Group:
To learn more about dueling tariffs and the industries they'll impact the most, check out one of the latest white papers from the Freedonia Group, "US & China: Tariff Impact Report".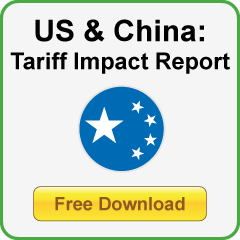 About the Author:
Nick Cunningham is an Industry Analyst at the Freedonia Group, where he covers the US and global construction and building products industries.