With a growing emphasis on sustainability among local governments, laws restricting single-use plastic (SUP) products have become increasingly common. Various local governments in the United States have banned single-use plastics due to their detrimental effects on wildlife, climate conditions and human health. While plastic bag bans often receive the highest media attention nationwide, legislative action in some cases has extended to other plastic products such as straws, lids, utensils and other disposables. For example, Vermont plans to ban all single-use plastic products statewide by summer 2020.
The haphazard nature of localized single-use plastic bans is slowly forming a complex regulatory landscape for disposables across the US. Particularly, supply chains must adapt to changing legislative actions, and such disruptions impact disposable manufacturers, foodservice distributors and businesses that work directly with consumers, such as restaurants and food establishments.
Manufacturers may have difficulty planning future production schedules while navigating changing regulatory developments and consumer responses. Further, distributors may need to create new supply lines, incurring new direct monetary costs and a significant increase in time spent toward logistical planning. Finally, restaurants may need to consider new supplier relationships in response to localized variation in regulatory initiatives. While attention is often paid to the direct impact these bans have on consumer behavior, the potential for supply chain disruptions is wide-ranging.
Manufacturer Level
In response to individual SUP bans, manufacturers may need to consider various initial responses, including broadening their product lines, shifting production schedules and re-evaluating existing supply contracts. An alternative material will have different profit margins than previously sold plastics and may make for difficult strategic decision-making.
Even if disposable product manufacturers choose to maintain their current mix of material offerings, new legislations with that impact significant consumer populations have unpredictable early effects on production planning. Additionally, manufacturers must evaluate the full scope of their supply chains, including how direct sales are approached (when applicable), the current status of distributor relationships, and shipping or logistical considerations.
Distributor Level
Manufactured single-use plastic products follow a designated supply chain to reach end-users such as consumers and food establishments. Foodservice distributors, in particular, often assist with logistical and sales considerations across the supply chain, to connect manufacturers with their target end-markets. Distributors providing that service may need to form new relationships with suppliers in areas where there is a larger short-term need for alternative-material products. Additionally, foodservice distributors may need to reorganize the supply routes that serve regulated markets.
This reorganization may involve a variety of measures, including designing unique supply chains with their own suite of shipping and logistical services. For example, a major metropolitan area may choose to ban plastic straws and stirrers, yet locales right outside the city may not. A distributor that once made a clean sweep with one truck to all locales outside Seattle and the city itself now cannot, due to dramatically different laws in the neighboring areas.
Purchaser Level
Businesses that interact directly with consumers, such as restaurants and schools, face unique challenges in the evolving single-use plastic ban regulatory landscape. Purchasers may need to work with new distributors and may need to investigate if their current suppliers can serve their needs. In addition, supply chain coordinators serving a large geographic area may need to renegotiate contracts with distributors to keep supply lines intact.
In the initial stages following implementation of new bans, businesses directly serving consumers may be unsure of the expected demand for alternative products and may struggle to quantify necessary changes to their supply contracts. New relationships along with possible doubts about current supplier abilities make for a complex situation for purchasers.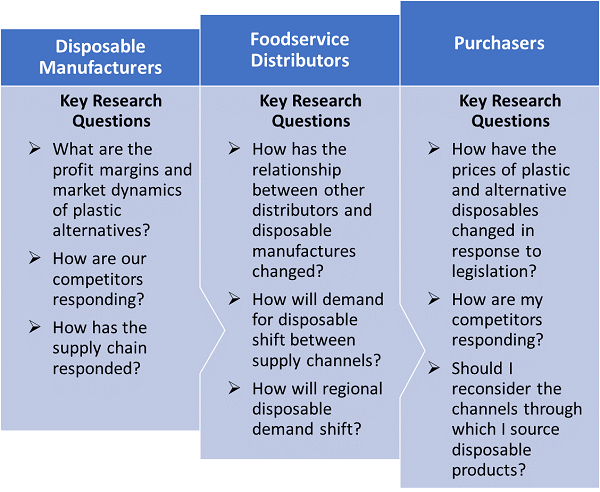 How Market Research Can Help
Local and statewide single-use plastic bans have far-reaching market impacts beyond their select geographies. Inconsistent bans across different areas can be confusing for all parties involved, complicating an already intricate network of supply chain relationships. A detailed analysis of market sizing, competitive landscape and supply chain effects can help guide strategic decision-making. Particularly, primary research interviews with market participants across the supply chain can be a valuable resource during times of uncertainty. For nearly any organization operating across the SUP supply chain, an independent and thorough evaluation of market impacts can be a useful tool to inform responses to shifts in local and national regulatory environments.
Where to Learn More
The analysts at Freedonia Custom Research are highly skilled in analyzing global industrial and business-to-business markets. For more than 15 years, we have been helping clients make the right decisions through hundreds of complex projects completed for many of the largest industrial companies in the world. Freedonia Custom Research has completed a variety of packaging and disposables studies for clients across a number of industries, with support from its experienced team of dedicated research analysts. Contact us to discuss your specific research needs and to explore how we can help you achieve your strategic goals.
About the Author:
Brendan Rhoads is a Research Analyst with Freedonia Custom Research, where he is responsible for both primary and secondary research activities, the analysis and synthesis of data, and the organization and delivery of internal and client project deliverables. He holds a bachelor's degree from Kent State University with a concentration in Economics and Data Analytics.